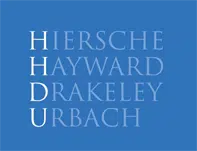 Hiersche, Hayward, Drakeley & Urbach
Hiersche, Hayward, Drakeley & Urbach, P.C. has been building long-term relationships with clients for more than 35 years by providing solid and successful legal solutions balanced with business insight.
The firm has 25 attorneys providing clients with counsel and representation in a broad range of practice areas. We are proud of our reputation for combining legal excellence with efficiency and value. We credit our clients and their confidence in us for our long-term success. HHDU has experienced steady growth throughout the firm's history, even during turbulent times that brought down other firms.
At Hiersche, Hayward, Drakeley & Urbach, P.C., we don't take our clients for granted. We work hard to build and maintain our client relationships through effective representation and communication. We consider every matter a priority, ensure you know what's happening, and are always accessible to you. Through our commitment to efficient staffing and processes, we are able to offer cost-effective solutions to your legal issues.
Lawyers Associated