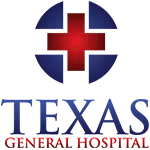 Texas General Hospital
Texas General Hospital in Grand Prairie, Texas, provides the highest Quality of Medical Care to the community and an excellent opportunity of professional growth and training for the Medical Staff. Quality Patient Care and Patient Satisfaction are our top priorities. Physicians on staff have trained at prestigious institutions that include Harvard, Yale, Emory, University of Texas Southwestern Medical School and Baylor Medical School. These physicians bring the community the highest degree of Training, Techniques and Specialization. Patient Care and Quality are the Focus of Texas General Hospital.
MISSION STATEMENT
Texas General Hospital is committed to providing Grand Prairie and the surrounding communities with quality, safe, superior, timely and comprehensive patient-centered care through our innovative team approach. Our commitment to our clients encompasses premier physician relationships in various specialties as well as fostering educational and academic opportunities. We exhibit stewardship and creativity in the management of all available resources to promote future growth.
VISION STATEMENT
Our vision is to be recognized as the premier healthcare system for the communities in which we serve. TGH will be recognized by employees, physicians, patients, and volunteers as the best place to work, the best place to practice medicine and the best place to receive care. TGH will attain this position by transforming the healthcare experience through a culture of Wellness, Excellence, Compassion, Advancement, Respect and Ethics.
QUALITY
Texas General Hospital is committed to the development and implementation of a quality management system as a means of improving patient quality and overall hospital quality.
Lawyers Associated