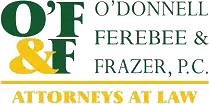 O'Donnell Ferebee & Frazer, P.C.
Established in 1982, O'Donnell, Ferebee & Frazer, P.C. works to provide cost effective, quality legal services to its clients.
J.Michael O'Donnell and William C. Ferebee consolidated the practices of J. Michael O'Donnell, Inc. and Ferebee & Ferebee, a Texas general partnership, to form O'Donnell & Ferebee, P.C., a Texas professional corporation.
In 2013 Jason Frazer became a shareholder and the firm is now kznown as O'Donnell, Ferebee & Frazer, P.C.
Our main office was located in Paragon Center One, 450 Gears, Houston, Texas 77067 from November 1984 until September, 2015, when it was relocated to 1790 Hughes Landing, The Woodlands, Texas 77380.
Lawyers Associated
Suspendisse nisi eros, congue id gravida eu, vestibulum tempor nulla. Vivamus in hendrerit nisl. Integer condimentum vestibulum ex vitae volutpat.